Contact
SRS Solutions Ltd.
Cím: 1037 Budapest,
82. Királylaki Street
Phone: +36(1)453-3432
Mobil: +36(30)965-7567
E-mail: srs.solutions@t-online.hu
Background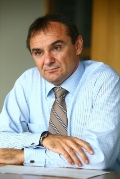 WORK HISTORY
2009- SRS Solutions Ltd. Executive Consultant and Coach
Executive coaching, mentoring and strategic counselling for managers of multinational and Hungarian-owned companies
2005-2009 Sara Lee Hungary Ltd., President of Coffee and Tea Retail Hungary, Czech Rep., Slovakia, Romania, Bulgaria, Slovenia
Leading Hungarian and Czech Coffee and Tea Retail Business as well as the market development in Slovakia, Romania, Bulgaria and Slovenia.
2000-2009 Sara Lee Hungary Coffee and Tea Ltd. President
Managing the Hungarian Company of Sara Lee of 20 billion HUF net turnover and 600 employees. Coffee, tea, other food production and sales of local and international brands.
1997-2000 United Biscuits Hungary (Győri Keksz Ltd.) Managing Director
Managing Hungarian Business Unit of 10 billion HUF NSV/year, 1.100 employees with full profit responsibility. Managing commercial operation in Romania and market development through distributors in Czech Republic, Slovakia, Bulgaria, Slovenia, Croatia and Yugoslavia
1992-1997 Heinz Kecskemet Canning Company Ltd. (an Affiliate of H.J. Heinz USA) Sales and Marketing Director
Managing local and export sales and marketing of a 7 billion HUF net turnover company. Leading 53 employee in sales and marketing and 170 people on the field of logistics.
1991-1992 B&M Trading Ltd. Managing Director
Establishment of a commercial company in Budapest.
1987-1991 Consultant
Marketing and strategic projects.
---
EDUCATION
2012- ANEA Human Education Centre Business and Organizational Psychology studies
1993 University of Horticulture and Food Industries, Budapest Univ. Dr.
1987-1991 Hungarian Academy of Sciences, Budapest Marketing and Management Studies, Ph.D. degree
1982-1987 University of Horticulture and Food Industries, Budapest M.Sc. in Food Economics
---
MAJOR COMPANY TRAININGS
2007 Executive Development Centre, Perm Kandola, London
2003 Creative Expression Program, Radicle Works, Amsterdam
2002 Creative Leadership Program, CCL, Colorado Springs
2000 Creative Impact Program, Bluespace, Amsterdam
1999 World Class Customer Management Program, Glendenning, London
1998 Balanced Scorecard, Renesance, Amsterdam
1997 High Performance Behaviour, Creating Insight, London
1997 Creating Shareholder Value, MDA, London
1992-93 Heinz UK, Hillsdown Holding Ltd., Great Britain (company trainings)
---
MEMBERSHIPS, OTHER ACTIVITIES
Hungarian Association of Branded Goods Manufacturers – President for 5 years,
Hungarian Academy of Sciences, Marketing Committee
Titular Professor of Corvinus University, Budapest
Titular Professor of Szent István University, Gödöllő
Titular Professor of Collge of Horticulture, Kecskemét